Cycling is the name by which various types of sports in which a bicycle is used is identified. It is a very popular activity that has achieved worldwide fame to introduce several methods to achieve the Olympics.
Cycling as a sport born in 1890 but the bike has a much more ancient origin in China, India and Egypt. The bicycle, as it is known today, was completed after many improvements, in 1865.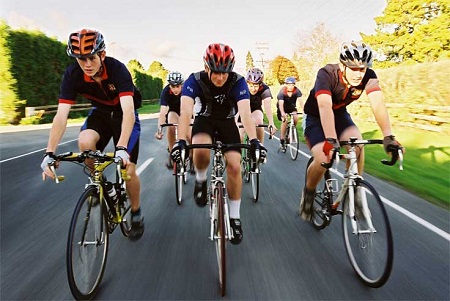 The first road cycling race was in Italy in 1870. Between 1890 and 1900 many trials that are now considered classics are created. The first world championship was held in 1893 with sprints and middle distance.
The elements are a cyclist must have shirt representing your team or country; the shorts, a tight and padded pants that reaches almost to the knees; special shoes that fit into the pedals and helmet is mandatory in amateur competitions and optional for professionals.
The modalities of cycling, the most important is the UCI Road. It consists of road races which can be classic, by stage, individual time trial and team time trial. Classics are performed in a single day and are part of racing online. The trial runs are performed individually or team; competitors come with 1, 2 or 3 minutes difference depending on the distance traveled. The most important races including this modality are the World Championships, Grand Tour and Grand Prix des Nations.
The Mountain Biking being done on a mountain bike full of obstacles, such as holes, rocks, mud, sand, slopes and more challenging terrain is also highlighted. Tests can be cross country, which in turn can be of marathon rally, racing from one point to another and closed circuit respectively; the descent, which are skills downhill trails with natural and artificial obstacles; and four cross, which is also in decline but with four competitors and many obstacles and big jumps.
The above are the three modes that have been included in the Olympics. Track events were included from the first modern edition of the Athens Games. As mountain biking, playing test cross country.
Other forms of cycling are Cyclo-cross, BMX (stunts) Trial Chamber Cycling, Cycling and Cycling Urban.