Category Archives:
Gear Review
The natural progression continues…
As it stands at the time of publishing this post; two of my most popular pages are my reviews on the Shimano WH-7850-c24-cl wheelset and the Shimano WH-6700 Tubeless wheelset. I am anticipating that this one will join their ranks rather quickly.
The RS-80 c24, much like the WH-6700 Ultegra Tubeless is a allegorical "shot-across-the-bow" at other major players in the road wheel market. With both of these wheels Shimano is basically saying: "We're doing this be cause we're Shimano and we can." Not that other providers cannot; just that they either don't have the guts or capital (or both) to pull it off without serious stress or anxiety. These wheels possess features of higher priced wheels at prices that you just don't find from the competition. In the case of the RS-80 c24, those features would be light-weight carbon-laminate rims at a price usually below $900. The rims are so light in fact that you cannot get much lighter without going to a full-carbon rim and sacrificing the superior braking of the aluminum brake track.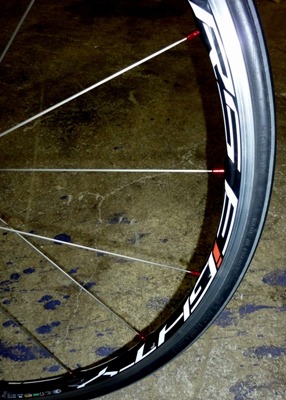 The RS-80 c24 can be thought of as the "Ultegra" version of the Dura Ace c24-cl. It uses the same rim but merely swaps in a lower grade hub to result in a significantly lower cost and slightly higher weight. Here's the cost/benefit analysis:
Weight:
~Dura Ace (7900-c24-cl): 1395 grams
~RS-80 c24: 1516 grams
~ Difference: 121 grams (only 24 grams in front)
Retail Prices:
~Dura Ace: $1300
~RS-80 c24: $900
~ Difference: $400
All that for just a simple difference in hubs and spoke threading…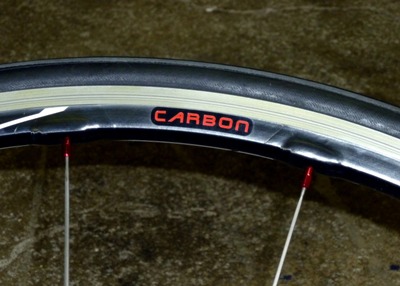 In my book; that's a pretty good trade-off. Not to knock the Dura Ace wheels, they're great and if you read the original review I gave them you'll remember that I raved about them and would love to have a set. Well, several years later and now I'm not just a father of 1 boy, but now 3 boys… well, let's just say that I'm now that guy who can't justify paying more for some things just because it says Dura Ace on it if the performance is close enough. And those 121 grams: I gained more weight from eating the ham, turkey, and cheese sandwich and crackers I had at lunch – if I really get serious then I'll lose 121 grams myself faster than you can say WH-7900-c24-cl AND I'll have more money in my pocket! So as far as I'm concerned – I finally got my wish and have the wheels I wanted.