Merida has refused to convert to the wheels Twenty One 27.5 "with a series of tweaks and changes, but has taken advantage of the situation to develop a bike 100% new. Begin a new and different stage for the second biggest selling model maker.
Test GT Force Carbon Pro
With some bikes happens as our best friend from childhood you have the feeling that it has always been and is there. The same feeling awakens Merida One Twenty of a bike that always emerged when the idea has been to have a bike for all types of routes, for giving everything rises or to download safely and guarantees. While doing review of the history of Merida, the origin of this bike goes back to 2009, when it was presented to the world, found in 2010 catalog Brand and time Merida left the Mission, with the damper located in the left strap. Such a large echo in such a relatively short life can only mean that the Twenty One is a successful bike, though no Merida is shown under and has constantly sought ways to improve it further.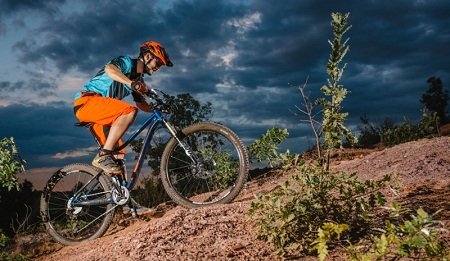 Merida One Twenty 7900
From the small office Stuttgart (Germany) in Merida, where a group of about 10 employees are responsible for the engineering and designs all models, have worked to modify the rear suspension system, from a set of 4 pivots to a floating system (Trek or KTM are other brands that have popularized). The reason for this remodeling is, in short, to obtain a more absorbing rear suspension, with which we feel have more travel than 120 mm real. In detail, this system allows engineers have more room to change the Leverage Ratio of the suspension, ie, if you want the damper has a more or less linear or progressive along its entire length behavior. In the case of One Twenty, efforts have been aimed at achieving a mainly linear feel.  Continue reading "Merida One Twenty 7900"