Merida has refused to convert to the wheels Twenty One 27.5 "with a series of tweaks and changes, but has taken advantage of the situation to develop a bike 100% new. Begin a new and different stage for the second biggest selling model maker.
Test GT Force Carbon Pro
With some bikes happens as our best friend from childhood you have the feeling that it has always been and is there. The same feeling awakens Merida One Twenty of a bike that always emerged when the idea has been to have a bike for all types of routes, for giving everything rises or to download safely and guarantees. While doing review of the history of Merida, the origin of this bike goes back to 2009, when it was presented to the world, found in 2010 catalog Brand and time Merida left the Mission, with the damper located in the left strap. Such a large echo in such a relatively short life can only mean that the Twenty One is a successful bike, though no Merida is shown under and has constantly sought ways to improve it further.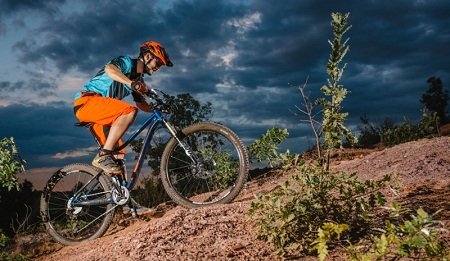 Merida One Twenty 7900
From the small office Stuttgart (Germany) in Merida, where a group of about 10 employees are responsible for the engineering and designs all models, have worked to modify the rear suspension system, from a set of 4 pivots to a floating system (Trek or KTM are other brands that have popularized). The reason for this remodeling is, in short, to obtain a more absorbing rear suspension, with which we feel have more travel than 120 mm real. In detail, this system allows engineers have more room to change the Leverage Ratio of the suspension, ie, if you want the damper has a more or less linear or progressive along its entire length behavior. In the case of One Twenty, efforts have been aimed at achieving a mainly linear feel. 
One of the first things that strikes us in the table are his lines, taking away much of the previous model and even other models Merida, becoming one entity. In Merida have been left completely seduced by many trendy geometric aspects such as longer tubes (combined with a shorter stem), steering angles more open and more upright seat. In its morphology, also comes into the picture hydro forming, with very curved top tube, oversized or contrasting with small diameters, even to remind mounts Enduro other small European manufacturers.
TWO RANGES
Merida has paid special attention to have models that meet the price range from average to medium-high, with five models in total. To do this, he has designed two tables Lite (on the top two models, 900 and 800) and TFS, also called Pro and Comp in its catalog. The first of them is realized by hydroforming, why some of the tubes have more complex profiles, and the second technique by mechanical pressure molding (Forming Techno System). They have another difference, the steering of the Lite models is Tapered (conical), while in the TFS no. This allows three basic models mounted 120mm forks cheaper, and thus further adjust the final price with the disadvantage of not being able to install a Tapered fork in the future in case you want to improve it. The Lite models mounted forks with 130 mm travel, giving the bike a little more aggressive approach.
900 7. This version is superior, with full assembly Shimano Deore XT group, bushings included, and worthy components to be mounted on Enduro bikes, like the handlebar-power set FSA Afterburner or super telescopic seatpost RockShox Reverb, accompanied components other quality parts and the saddle Prologo Nago or DT Swiss wheels.
 Merida One Twenty 7900
The communion between geometry, suspension assembly and components, undeniably result in appearance of very robust and capable bike down hard. However, in Merida they refuse to neglect the purely pedaller appearance. The pedaling efficiency system itself is good, with minimal movement when pedaling strong on the climbs, and virtue that once down is very sensitive and lively, absorbing almost everything smoothly. However, the CTD control your shock (and its fork) in "Trail" (intermediate) mode does not show as high as expected, compared to other brands compression. There is a marked difference with the "Descend" mode, and forces us to resort rises enough to lock in "a plate". For the same reason, 25% of sag recommended Merida shown somewhat excessive, and we preferred riding on 20-22%. With these settings the pedal is firmer and traction capacity, another virtue of its floating system, no decline at all.
It feels like a comfortable bike, geometrically speaking have been successful with the mixture as openly address and more upright seat tube, placing an efficient approach to pedal and steering control long descents. The weight is 13.5 kg (without pedals), and partly due to the use of very robust components. Pod length, 440 mm, subtract some agility to the bike, especially the rear axle, but we must recognize that is offset by the high rigidity of the frame together and geometry of the front triangle. According Merida, so it prevents excess weight rests on the rear triangle, and impairs the front support on the climbs. Schwalbe Nobby Nic tires last generation (2015) have somewhat limited the potential of this bike, as it still somewhat fragile housing and dry grip is a fair bit, but be notified in advance.
Overall, this is a bike that moves away from the traditional in the area of ​​120 mm and opts more towards the "Shining Path" side of the Mountain Bike that towards the marathon, with 130 mm of travel on the fork, one rear suspension that provides softness and absorbency to spare and some components ready for battle.