Highlights different types taking into account the objectives and characteristics of the test in which you compete in competitive cycling. Thus, the field, the final objective, rules, type of bike and tools, and other features determine a different form of competitive cycling. But what are these types of cycling? What types of cycling there?
Cycling route or highway
The road race also called road cycling is characterized by its practice in tarmac terrain. It is the most classic and, therefore, enjoys more prestige internationally. Are three main ways to compete in cycling road or highway.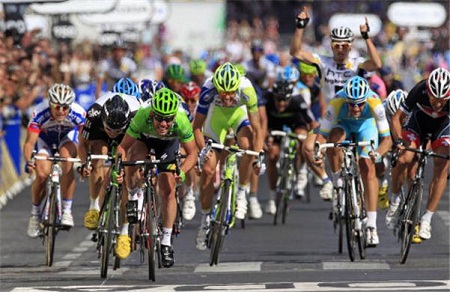 The time trial, which can compete both individually and in a team format is based on the time taken to perform a flight path defined time. This type of test shows the physical strength of the rider or group of riders, as it is usually done in shorter than other road races paths.
The test stages are characterized by testing and extensive travel, therefore, lasted for several days. Therefore, the total length of the circuit is divided into several sections or stages. The total time used by each rider to complete each stage. However, to finish a test so demanding cyclists will have to know what the right pace to avoid having to leave and try to finish the best.
Track Cycling
The cycling track features done in closed circuits within velodrome and the use of bicycles specially made for racing on tracks. These bikes carry the higher than usual pedal, brakes, or not wear gear changes and are fixed gear. A variety of tests that are competing in this type of cycling. The most competitive eleven are the following.
The tested individual and team speed, kilometer time trial, individual pursuit and team points race, omnium, keirin, the race six days, scratch, and Madison.
Cyclo-cross
The cyclo-cross, also called BMX, is to complete a circuit with many obstacles, usually natural but can also be artificial. We compete with road bikes or path, but with a different material on wheels to make them fit to compete in the mud. Outdoor compete for fields or meadows so that obstacles are usually difficult to circumvent.
Mountain Biking
Mountain biking is characterized as one of the toughest cycling disciplines due to the complication of the sections were often organized competitions. To practice, it is necessary to have a particularly resistant to shock but bike as light as possible since cyclists will face steep roads and great adversity. In this discipline are three tests mainly, but there is plenty of evidence that compete regularly.
The cross-country or cross country consists of completing a predetermined number of turns which usually comprise a length of between 8 and 12 kilometers. It is the most competitive test of this discipline and also has Olympic recognition, which is one of the tests that are competing in the Olympics since Atlanta'96.
The descent or downhill , literally "downhill", is based on the maximum domain of the bicycle by the broker since it involves overcome the many obstacles that the rider will find in a downhill mountain always dangerous and unpredictable.
And finally, the four cross or cross country for four is similar to downhill descent but developed by four cyclists while competing with each other. Competition makes this test a sports event.
BMX Bike
The Bike BMX is to perform stunts with your bike. We compete on small and with features that make it easy to handle when performing stunts bike. It is a purely artistic discipline. Are two modes, the call is a freestyle proposed by each competitor when doing stunts, race mode is similar to motocross race but bmx bike.
Indoor cycling
It is a type of cycling whose practice is a minority and where they basically perform two tests. The ciclobol, consisting of a football play bike. And, secondly, the art refers to cycling gymnastics, usually music, on board of a bicycle specially adapted.
Trial
Finally include test trial since its inception has speaking flavor. A great champion motorcycle trial was established in Spain. The test consists basically of making a path full of obstacles, without speed, resting your feet on earth the minimum number of times possible.