Category Archives:
Cool Bikes
Shanna has waited far too long for her bike and has been more than patient! (Thanks for understanding, Shanna.) We placed the order with Trek as soon as they opened up the ProjectOne program – because we wanted to get her on the bike as soon as possible. Well, we didn't expect that it would take Shimano this long to perfect the Dura Ace 7950 compact crankset. But, just look at that thing! Worth the wait, huh? Gorgeous!
So, here's the run down on the build kit: Frame Module: 2009 Trek Madone 6.5 Pro, 52cm; Wheels: Bontrager Race X Lite; Group: Shimano Dura Ace 7900 w/ 7950 compact crankset; Handlebar: Bontrager Race X Lite Carbon Blade; Stem: Bontrager Race XXX Lite Carbon Road; Pictured accessories: Bontrager Race X Lite Carbon bottle cages; Bontrager Air Rush CO2 mini-pump. Weight as pictured: 14.8 lbs (Including cages, pump, CO2, and yes, reflectors…)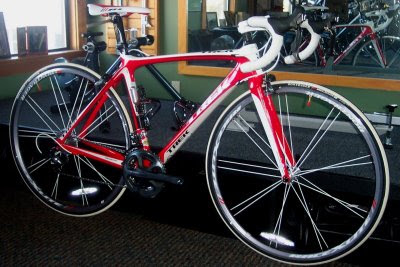 Just a few notes for interested readers: This is one of our first assembly jobs with the new 7900 kit, and there's a few things that really jumped out at us. Shimano is known for continuous improvement and innovation and 7900 is no exception. Every bit from the shifters to the barrel adjusters has seemingly been scrutinized for improved function and feel. Just try this next time you get a chance to touch some 7900 stuff (especially if there is 7800 or 6600 Ultegra nearby…): grab the brake barrel adjuster and give it a twist. Smooth, light action but still solid and you know that adjuster will hold it's position. Now twist the 7800 or Ultegra adjuster: solid, confidence inspiring, but not as smooth or effortless. Shimano doesn't miss a detail!