2/1/07 – My New Bike!
Yeah, even us shop guys get excited about getting new bikes! Truth is, I've somewhat secretly wanted one of these for quite some time. I got a Trek X0-1 frameset from Trek and built it up with parts that had been on another frame to end up with a new cyclo-cross bike. It's been quite a project – as some of these parts are new, and some have been on as many as three of my bikes. I even built the wheels myself a couple years ago. Yeah, it's not the prettiest or the coolest, or the lightest or newest – but it'll be a great rainy-day, commuter, winter bike. You might even catch me on it in some cyclo-cross races next winter. (Yeah, I know the last 'cross race of the season was on Sunday…perfect timing, huh?)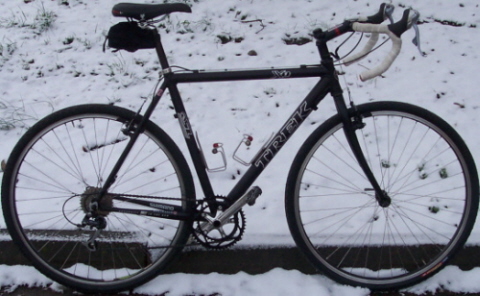 So, why am I writing about this here? Pretty light reading compared to my usual topics? Well, I'm excited about it, and the guys at our stores are all pretty big fans of cyclo-cross bikes. If you're looking for the road equivalent of a hard-tail mountain bike – a go anywhere, do anything kind of machine – the cyclo-cross (or CX) bike is the ticket. These bikes have most of the same advantages of your average road bike, but the fit is a little more relaxed and with beefier frames and components and wider, generally knobby, tires they can handle some pretty rough terrain. They also ride pretty smoothly because of their wider tires, so they're a great choice for commuting.
So, since this one won't appear on our shop website here's the run-down on the build:
Frame: Trek X0-1 Alpha SL frame w/ Trek alloy fork; Group: Shimano 8 speed R600/LX w/ Bontrager Sport GXP Compact crankset; Wheels: Handbuilt Salsa Delgado Cross rims, Shimano XT (f)/LX (r) hubs, DT Swiss Competition spokes; Support: Bontrager Race Lite Stem, Bontrager Race Lite CX Handlebar, Alpha Q Pro Lite Carbon Seatpost, WTB Speed V Saddle, Ritchey SpeedMax 700×32 tires, Cane Creek S-3 Headset, Shimano SPD M-737 Pedals.
Thanks for reading.
**UPDATE**: The bike got a new build kit some time ago. Here's the changes from the above/pictured specs – Group: Shimano Dura Ace 7700 9-Speed, Selle Italia Flite Gel Flow, Shimano SPD M-520 pedals