Shanna's Sweet ProjectOne 6.5 Pro
Shanna has waited far too long for her bike and has been more than patient! (Thanks for understanding, Shanna.) We placed the order with Trek as soon as they opened up the ProjectOne program – because we wanted to get her on the bike as soon as possible. Well, we didn't expect that it would take Shimano this long to perfect the Dura Ace 7950 compact crankset. But, just look at that thing! Worth the wait, huh? Gorgeous!
So, here's the run down on the build kit: Frame Module: 2009 Trek Madone 6.5 Pro, 52cm; Wheels: Bontrager Race X Lite; Group: Shimano Dura Ace 7900 w/ 7950 compact crankset; Handlebar: Bontrager Race X Lite Carbon Blade; Stem: Bontrager Race XXX Lite Carbon Road; Pictured accessories: Bontrager Race X Lite Carbon bottle cages; Bontrager Air Rush CO2 mini-pump. Weight as pictured: 14.8 lbs (Including cages, pump, CO2, and yes, reflectors…)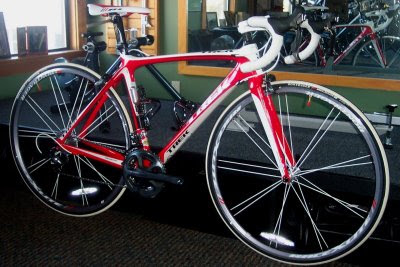 Just a few notes for interested readers: This is one of our first assembly jobs with the new 7900 kit, and there's a few things that really jumped out at us. Shimano is known for continuous improvement and innovation and 7900 is no exception. Every bit from the shifters to the barrel adjusters has seemingly been scrutinized for improved function and feel. Just try this next time you get a chance to touch some 7900 stuff (especially if there is 7800 or 6600 Ultegra nearby…): grab the brake barrel adjuster and give it a twist. Smooth, light action but still solid and you know that adjuster will hold it's position. Now twist the 7800 or Ultegra adjuster: solid, confidence inspiring, but not as smooth or effortless. Shimano doesn't miss a detail!
As many (including myself) have reported, the STI lever shape feels great in the hand and the brakes are SOLID! The shift action is light and precise and the front derailleur shifts especially smooth compared to previous generations. A product of the years of research and innovation Shimano has put into their chainrings – not to mention the super-stiff hollow outer chainring. The rear derailleur's capacity has been changed from a 27 tooth large cog to a 28 tooth cog – an important little change for those of you hoping to drop your triple cranks and enjoy the advantages of compact cranks.
As for the Madone: The 6-series is of course the top-of-the-line. The frame that's too light for Trek's pro-team: Astana. And the only thing the 6.5 is missing from it's "big brother", the 6.9 is the carbon wheels. Shanna's Pro-geometry frame uses the same geometry as the original Madone bikes and Trek's legendary 5000 series bikes (5200, 5500, 5900); the best selling carbon-fiber bikes on the planet. If it's not broken – don't fix it, right? Otherwise, aside from adding a replaceable aluminum derailleur hanger – the frame module is unchanged from last-year's debut version. Shanna's handlebar and stem will provide a smooth, comfy ride while being stiff enough to "wrench" on the bars in a sprint or climbing that last hill before the finish line.
So, what do you think? Great finished piece, huh? Shanna didn't change her bike too much from the original spec – but we did make some adjustments to the dimensions of the handlebars, cranks, and seat cap – exercising what Trek has created to be the best build-to-order program available from a major manufacturer. You just can't get this kind of versatility from anyone without buying just a frameset and build-kit separately and potentially paying a premium.
Thoughts? Questions? Leave a comment and I'll reply.
Thanks for reading!