Bontrager InForm RL Saddle: First Impression
Something I didn't mention in my Trek World report on Bontrager, which you'll see more of in 2009 is Bontrager's new saddle line. The first two models, R (Race) and RL (Race Lite) came out in the middle of the 2008 model year with the range-topping RXL (Race X Lite) coming out soon.
"So, what's really new in saddles that Bontrager could have discovered…isn't this really just the same song, second verse?"
At first look, you might think this. Bontrager's been doing saddles for a while and not really settled on any one distinct, definitive technology or characteristic to make them truly unique. And now, just like a lot of other top saddle companies; they're doing saddles in multiple widths – nothing new, right? Wrong.
The multiple widths is just a portion of what Bontrager has discovered in their research to make saddles more comfortable for more people. The other part of this is to have the correct arc to the saddle to support your sit bones, allow the proper amount of contact area, and then stay out of the way. So, each saddle does not only have a unique width and profile; but also a unique arc to the back portion of the seat. Ultimately, the idea is that a center cut-out section will not be necessary because you are sitting above the body of the saddle more; rather than on the body of the saddle. I'll admit – I was intrigued.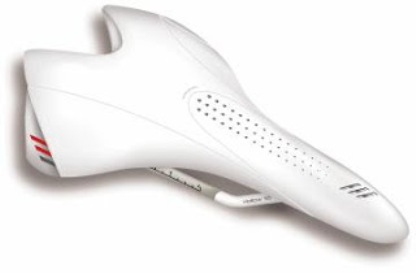 So I got one. Truthfully; I was given one – at Trek World – after being measured by a Trek employee for the proper width; I was given a InForm RL saddle in trendy white with silver trim.
Now, some history. I'm a die-hard cut-out saddle rider. I currently own 4 Selle Italia cut-out saddles and have ridden somewhere between 15,000 and 20,000 miles in great comfort on these saddles. The Flite Gel Flow has become my favorite saddle of all time and I'm a huge fan of that cut out. But when something comes along that claims to make the cut-out not necessary, my ears perk up and I get curious. So I have to test this out.
So, last Friday I fitted the InForm RL to my trusty Waterford before a quick one hour ride. I have the 146mm width (medium) as indicated by my measurements on Bontrager's proprietary InForm measuring system. (For what it's worth – I measure the same on both the Bontrager system and on Specialized's Body Geometry system. I've been measured multiple times on both systems; by a trained individual and done by myself with the same result each time – so both systems seem to provide objective and repeatable data – which speaks well to the thought that both companies have put into the system.
The first thing I noticed on the ride was that the saddle has a really rigid shell right out of the box – so I'm curious to see how it breaks in. On the first ride it never really bothered me; but I certainly felt as if I was riding on top of it rather than the saddle "cradling" me as my well-broken-in Selle Italia saddles do. But, I'm slow to evaluate a saddle on the first ride. I really like to give them about 10 hours of riding to really let it break in nicely. Because the fact is; regardless of what kind of terrain I'm riding or what my fitness level is – 10 hours is always 10 hours. It might be 170 miles or 200+ miles; but it's always 10 hours. So I'll certainly report back after that time has elapsed, but so far I think the results will be favorable.
One gripe: the plastic cap under the nose of the saddle has some points aimed toward the ground on it. These points catch my shorts as my leg brushes the nose of the saddle on the up portion of my pedal stroke. This has never been a problem on my Flite saddles; as the nose's side sections extend downward nicely – which works great for riders with big thighs like myself. I only find the catching mildly irritating and I forget about it after a while – but we'll see if there are any wear issues after 10 hours of riding.
As of today, I'm about a quarter of the way done – no time in my schedule for a really long ride – and all is well. I'll report back at the end of my test; but if things feel at least as good then as they do now; I might be saving up for the RXL!
Thanks for reading!