Category Archives:
Cycling News
When it comes to outdoor activity, it is hard to beat the moderate climate of Middle Tennessee. But even the few snows that we received this winter can't take the place of a trip to the Great White North for a reminder of what the "4th-Season" really feels like. Nothing like falling snow and a wind-chill of -9 degrees F to give you a dose of a real winter! Al Gore himself couldn't build a case for global warming in these conditions.
But, while I try to be environmentally conscious, that's not the only reason I was in Minnesota. I was invited by Quality Bicycle Products (QBP), the largest bicycle parts and accessories supplier in the U.S., to be a part of their annual Open House, called Frostbike. Now, it takes a very special place to draw a bunch of people to Minnesota on their own money in the middle of February – and QBP is that special. Not only are they a leader in the industry for service, technology, prodict availability, and the breadth of products they offer; but their facility in the Minneapolis suburb of Bloomington is LEED certified for it's minimal environmental impact. They even recycle rain water for the restroom functions – how "green" is that?!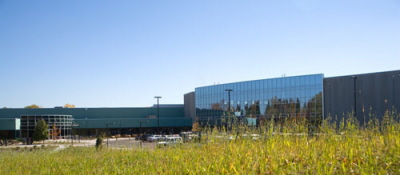 So, we're spending three days clad in wool socks
and our warmest Craft baselayers (and still feeling cold); cruising around the Twin Cities and attending different seminars, product introductions, and strolling the familiar aisles of a trade show. (If you're used to the Trade Show world, you know what I mean: only the locations change. It could even be in a different country – like the EICMA show in Italy which I attended in September of 2005 – and it feels like you've been there before.) But, this time was a little different. Somehow, it was more laid-back and enjoyable. I don't really know what exactly lent to the relaxed atmosphere, but my feet, back, and brain were thankful. Fewer vendors was definitely a key to the feel; and conducive to being able to spend more time with people you really wanted to talk to – vendors and colleages alike. Spending time with Dan Thornton from FreeFlite Cycles in Atlanta, Jay Graves of Bike Gallery in Portland (which I talk about visiting in my Christmas/New Years update), and Mike Hammanwright of Revolution Cycles in the DC area were highlights of the trip. While I've known Dan and Jay for a number of years now, it was a pleasure to finally get to meet the man who is blessed with the task of outfitting Peleton One (the President and his bicycle-mounted Secret Service squad) in Mike. What a genuine and entertaining guy!
Minneapolis is a very bicycle-friendly city – even in the dead of winter! However, one side of me has to wonder how many of the riders we saw commuting and cycling in general were QBP "plants" just trying to make it look that way! Just kidding. It was definitely too cold to ride though – which didn't stop everyone. The city has a lot of bike paths – all of which get plowed in the winter to keep them clear and useable. Some of QBP's employees ride to work year-round; regardless of the weather. Having the infrastructure certainly makes it easier. But, all the bike paths in the world wouldn't be more attractive than a nice warm car for the commute to work when it's infinity-below-zero outside. I guess we all have our passions – riding bikes below 30 degrees farenheit just isn't one of mine.
So, a bike-friendly city must have some great
bike shops, right! No doubt! The Minneapolis area is home to some of the best in the country – and we visited three of them. First was One on One Bicycle Studio at 117 N. Washington in Minneapolis' downtown Warehouse District. This was truely the most unique of the three. A minimalist, artsy, "vibey" place in the heart of downtown, the bike shop triples as an art gallery and coffee shop. Just a cool place to hang out – like some of my favorite places all rolled into one. A slowly catching-on trend, this shop differs from what we're used to seeing; rows-upon-rows of bicycles, mall store-like clothing departments, and laboratory-clean service departments. Instead, One on One chooses a boutique style with very few bikes actually on the show floor – merely representing what they have available. This provides an un-cluttered and more personal touch to the selling process. Since One on One doesn't really sell any entry-level or family-style bikes, this environment is one that I would find it very easy in which to really attend to a client's needs and help them find the perfect solution for their cycling experience if your target market is solely high-end.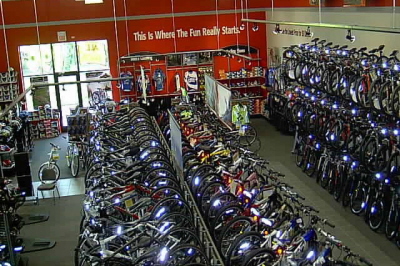 The entire trip, everyone kept saying that the "do-not-miss" part of One on One is the Basement! I have to admit that I wasn't sure what to expect or how to feel – and at first, fear prevailed over excitement. However, after ducking down into the stairway adjacent to the coffee bar, all became clear. Well, as clear as things can be in a cluttered basement that puts my parents' catch-all to shame! No where have I seen a larger, more extensive, more varied and interesting collection of cycling…well…stuff! Hubs, derailleurs, stems, handlebars, chains, cogs, cranks, forks, frames, saddles, seatposts, nuts, bolts and even a few complete bikes are strewn in a pseudo-organized way along the length of the 100+ foot long cellar below the sales floor. If you're in to oddities, it's quite interesting. If you're just a serious bike-buff like me – it's a real stroll down memory lane. You're likely to find several bike models you've owned down there. Not just the brand, but the very model. Cruisers, road bikes, tandems, BMX, hard-tail, full-suspension, new, old, successful and bicycle-blunders – they're all there. I'll have to take some cash with me next time and see if I can score some of the frames I've been looking for: A Bridgestone MB-1 and a Barracuda Dos-Equis Team. We'll see. Anyway, if you go, don't skip the basement.
Next was Bokoo Bikes in Chanhassen. This store's claim to fame is as an inspriation for Trek's Concept Store design (a "template" for store design which includes colors, fixtures, signs and floor layout which is designed by a brand, in this case Trek). It's quite evident from the moment you step through the automatic double-doors that this building was built for it's purpose (unlike that of One on One's…) – to be a world-class bike shop. Like a "Gap for bikes", Bokoo is clean (read: immaculate), well-stocked, and easy to navigate. It's well divided into categories to help you find what you're looking for: Hybrids, kids, mountain, and road bikes all have their own little world. Completed just before Trek rolled out their own concept for how a bike store ought to look and operate, Bokoo Bikes seems to have received a sneak peek at the playbook and even written a few pages. Coordinated color schemes, signage, and displays make this look less like an independently run bike shop (which it is) and more like something you'd find at a factory outlet which is owned, operated, designed and maintained by the brand. Even the service center was clean and organized – something which the best bike shops in the world still strive to do. Repair parts were well stocked and easy to find with their own "out-of-stock" cards, so the inventory manager always knows what needs to be re-ordered. I'm so jealous.
Finally, on our way to the airport to fly home, we went to Penn Cycles' newest store in Woodbury. Penn Cycle's claim to fame is that they were the first Trek Dealer. From that point, over 30 years ago to six stores today, with the Woodbury store being converted to a Trek Concept Store just two days after our visit, they're also an industry benchmark. We spent a great deal of time with Jimmy Joe, the store manager, as he guided us through their store an talked about the intricacies of making the conversion of an existing store to a Concept Store. Penn Cycle had some great ideas for programs and promotions – which Nashville cyclists will be getting familiar with soon as we roll out our own versions. Their years in business have shown them some great ways to provide immense value to their clients without any additional expense to be absorbed by the client or the store – a win-win situation. We can't wait.
Although I love the North, there's still nothing like coming home, seeing your family, and sleeping in your own bed – even if you do have to be at work early the next day… Life in the bike business never stops. Even in February.
Thanks for reading…