While cycling is generally regarded to be a relatively safe sport, accidents still happen and they can be nasty if you aren't prepared for the worst. Here are 7 top tips to help you stay safe while out on your ride.
Always Wear An Approved Helmet
Helmets are subjected to stringent testing in order to meet the Australian Standards guidelines for safety. Don't be fooled by cheap imitations that you can buy from overseas, unless it carries the Australian Standards sticker then chances are it will not be safe for road use. Fit is also crucial in ensuring the safety of your head during a potential impact. It should be snug but not too tight, and mustn't move around when you try it on.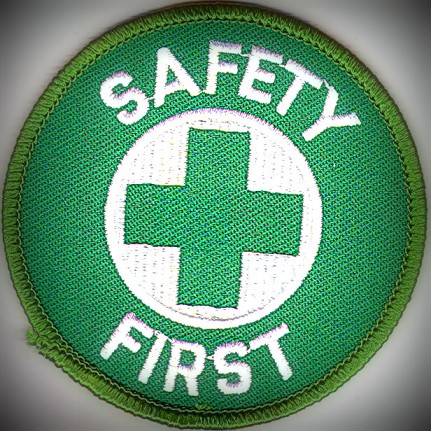 Invest In Road Lighting
If you ride at night, it is essential to fit lights to both the front and rear of your bike. Super bright LED's are the most popular choice, and will ensure that all other road users will be able to see you. These can even be useful during the day as an extra safety precaution.
Armour For Off-Road
Mountain biking is an exhilarating aspect of cycling, however due to the varied terrain and obstacles, it can also be the most dangerous. Investing in good body armour can protect you from serious injury, and significantly reduces the risk of broken bones. The best styles are made from high tensile yet breathable mesh with the armour plates stitched over key areas, and a back protector built in for extra support. They are so light and comfortable that you will barely even notice it's there!
Maintain Your Bike
Regular maintenance is a key aspect in making sure that your ride will always be a safe one. If you aren't confident in checking over and making necessary adjustments, most bike shops offer professional services for ultimate peace of mind.

Know Your Surroundings
Whether you're riding on the road or through forestry trails, it is essential to make sure that you aren't likely to get lost. Small GPS systems are available that can mount unobtrusively to the handlebars, so you will always make it to your destination without worrying about directions. It is good practice to carry a phone with you as well, so that you can call for help in the event of an emergency.
Be Aware Of Other Road Users
Many car drivers simply do not truly understand what to do in regards to sharing the road with cyclists. Some people are downright dangerous and have no respect for your safety, so you need to be vigilant when riding on the road. Always give yourself a safe buffer between your bike and traffic, and scan ahead to monitor for any hazards, such as change in road surface or inattentive drivers.
Know Your Limits
Accidents happen the most when you're physically and mentally exhausted. While it is good to challenge yourself on your ride, make sure that you don't leave yourself burnt out. Knowing what your limits are is an important part of staying safe during your time on the bike.
Making it home safely is the most important part of your ride, and these simple tips will help to keep you safe every time you cycle.