Mechanics Care carbon fiber
Carbon fiber has become, in recent years, the material par excellence in the manufacture of bicycles and components; unlike metals like aluminum or steel, carbon fiber requires special care to avoid damage.
TOOLS:
. 1.Pasta carbon mounting Thanks to her we ensure the correct mounting of components; highly recommended for contacts carbon / carbon ( carbon frame and seat post, etc …).
torque. Key Ideal any situation, but essential to apply the proper torque to tighten carbon fiber components. You can analog or digital dial find them.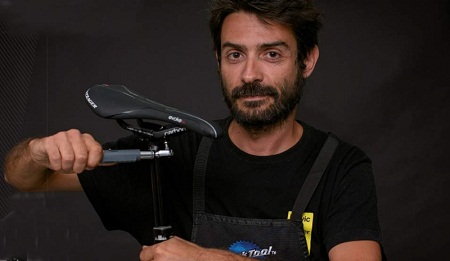 FOOTSTEPS:
Let's ride a triple carbon in a carbon frame ; all the steps that will follow here also apply to mounting a fork with carbon tube and a power of the same material. The first will clean the inside of the vertical tube of the frame to remove any grease or dirt.
We clean too, and for the same reason, the tube itself seat post . Any grease or foreign agent can make the seat does not set well.
Once it is clean apply some specific installation paste carbon components . This paste has components which give an abrasive texture, something like gritty to the touch. Thanks to these fixing agents any carbon component is assured.
Spread the dough well mount the steering stem ; do it only in the area which will be introduced in the box.
5.  The next step is to introduce the post in the box and secure . For tightening clamp the post in the box we strongly recommend using a torque wrench and respect pairs recommended by the manufacturers box and seat post clamp. Should be a quick closing, as the image is prudent tightening; assembly paste pairs allows us to use lower torque, in any case, try not to over tighten and if still the seat dance squeeze it in small increments.
Another peculiarity of carbon, in this case for the forks steerer with this item: Spiders. In the case of carbon Nan tubes using a specific expander, such as the right of the picture is required.
insist on the need to respect the torque and tightening the screws evenly, each equally.
When riding your bike on a roof rack for transport or in a mechanical pony , be careful not to strangle the fibers of the box with clamps.
In case of saddles with carbon rails pineapple notes that the seat does not have sharp edges at the ends to avoid damaging the rails; again beware torque.
10. Parece silly, but a cable box continuously bounds near our brands and even can cause breakage; Protect your box with silicone adhesives as the image.
Use adhesive pads on frame parts in contact with wires . These protectors avoid friction in the box, watching your table functional and aesthetic level
Finally remember that cleaning the carbon requires specific products because the chemical composition of certain formulas can damage the lacquers and resins.